Burning Bubbles Lab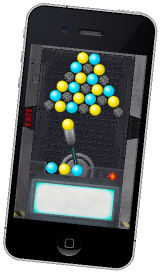 Get this addictive bubble-shooter game for your iPhone or iPad FOR FREE -- tons of levels included! Try this once and you will not stop!
The game play is evenly simple and captivating: Try to eliminate colored bubbles by shooting them with bubbles of the same color. Groups of three or more equal-colored bubbles fall down.
Watch out for debris tiles and dirt balls. Those can only be eliminated by bombs!
If your bubble chamber flows over, or the compressor moves up too far, everything will blow up. So Hurry up!